About Fluides Service

For over 50 years, FLUIDES SERVICE TECHNOLOGIES has been working on sizing, design and manufacturing of special machines.
Mainly dedicated to the Oil & Gas industry and installed OFFSHORE and ONSHORE, these machines are made to measure to meet our customers' specific needs and their most restrictive requirements: ATEX, corrosion, extreme temperatures, reliability, etc…
FLUIDES SERVICE TECHNOLOGIES also works in the Space and Aeronautics sector making test benches and special machines. Apart from manufacturing, we provide all start-up and maintenance services for our equipment and its surroundings.
Finally, out of all the skills required for manufacturing its equipment, Fluides Service Technologies has built up its own knowledge base: mechanics, piping, welding, instrumentation, electricity, automatism, process.
Over these 50 years, Fluides Service Technologies has developed and adapted to its customers whilst conserving the fundamental aspects of its success: customer satisfaction, manufacturing quality and service.
Today, we are proud to continue mentoring our customers through their most ambitious projects by offering them the highest level of quality and service.
Our watchword is : Excellence.
Fluides Service is a member of the
Martin Belaysoud
www.martin-belaysoud.com
Since 2007, FLUIDES SERVICE TECHNOLOGIES belongs to the Martin Belaysoud.
Major player in the industrial supplies market and that of health/heating, the Martin Belaysoud incorporated the national agencies "Fluides Service Industrie" in order to increase the density of their network.
The entities "FLUIDES SERVICE TECHNOLOGIES" and "FLUIDES SERVICE DISTRIBUTION" (F.S.D), mainly dedicated to the oil & gas industry, and export-oriented, were equally incorporated by the Martin Belaysoud.
Whilst preserving their identity and their autonomy, incorporation into the MBE group has enabled FLUIDES SERVICE TECHNOLOGIES to develop their potential with the help of a solid financial base.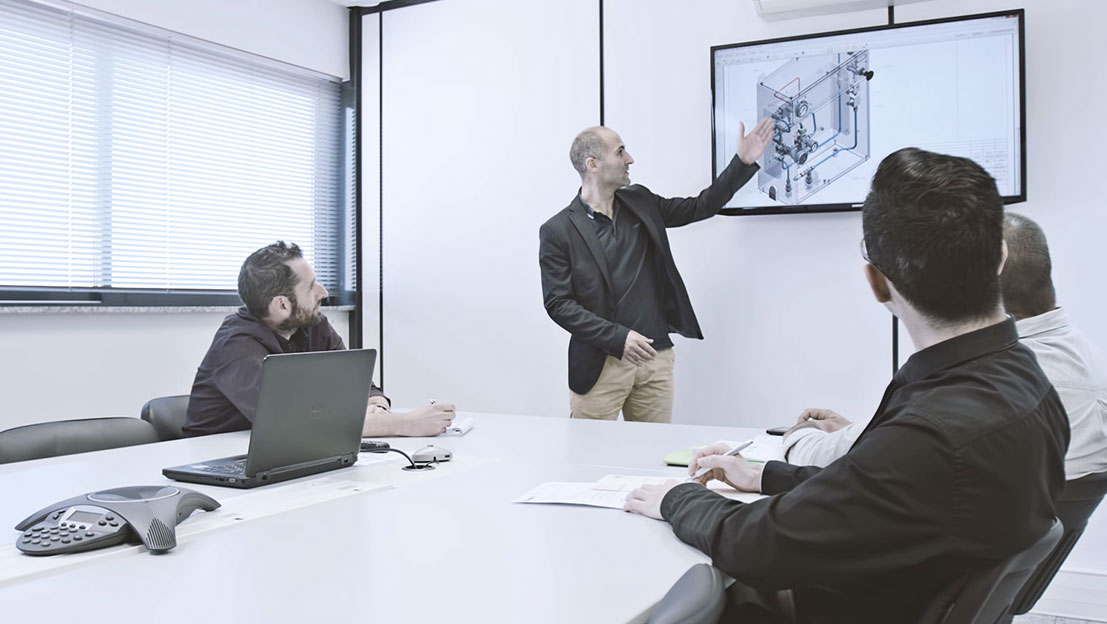 Historical
1972Creation of Air Service, company specialised in the sale and after-sales service of compressor and pneumatic material.
1978In response to a request from the oil company SNEAP (Elf), Air Service supplies to Tunisia, then to Gabon, the first production groups of flameproof compressed air adapted to the site conditions.
1980Creation of Pneumatique Service, a company specialising in the regional distribution of hydraulic and pneumatic products.
1984Creation of Fluides Service which takes over the commercial activities of Air Service & Hydro Pneumatique Service.
At the same time, manufacturing activities of special and trading machines is developed for the Oil & Gas industry.
Very quickly, thanks to the quality manufacturing of their equipment and their services, Fluides Service becomes a trusted partner for operators and engineers in this sector.
1988In order to better respond to the growing demand of its clients, Fluides Service spits into two specialised entities :
FLUIDES SERVICE TECHNOLOGIES :
Conception and manufacturing of made-to-measure packages.
High value-added services.
FLUIDES SERVICE DISTRIBUTION (F.S.D.) :
General international trading activity, specialised in the Oil & Gas industry.
Management of replacement parts for the packages made by Fluides Services Technologies.
2006Fluides Services Technologies launches its ISO 9001 certification process.
2007Fluides Services Technologies & F.S.D. join the Martin Belaysoud Expansion (MBE Group) whilst preserving their identities.
The MBE group offers Fluides Service Technologies financial capacity, a quality system and legal competence in compliance with their clients' expectations, therefore enabling Fluides Services Technologies to comfortably commit to more sizeable projects.
2008ISO 9001 Certification.
2013Introduction of a new production tool: change in premises, implementation of an ERP and team development.
But also : Sonatrach, Sonangol, Yemen LNG Company, RAS Laffan Industrial City, Storengy, Airbus, CNES, CNRS, EADS Astrium, Interspace, Safran…